VIVE Diary
Together with the Danish National Research Center Viden til Velfærd (VIVE) (In English: Knowledge for Welfare), we have developed a solution called VIVE Diary. VIVE Diary is a self-reporting tool used for qualitative data collection amongst a selected group of Danish families with children in the age of 3-6.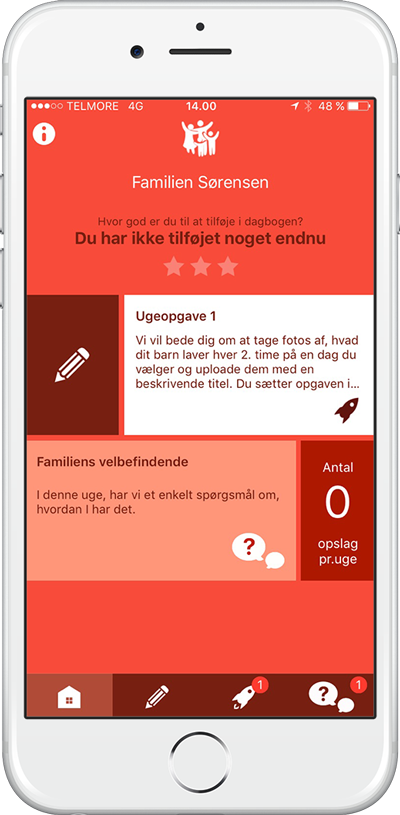 Self-reporting tool for collecting data amongst Danish families
The solution serves as a self-reporting tool where the participants can keep a diary, upload text, memos, pictures and videos from their everyday lives. The purpose of this VIVE social study is to research the Learning Environment in Danish families. Weekly, families receive tasks that they have to complete as a part of the study, e.g. uploading an image every second hour for a full day spent with their kids. Furthermore, the application includes a questionnaire feature, where the participants receive a new set of questions each week.
Client: Viden til Velfærd (VIVE)
Platform: iOS and Android
Released: 2017
Countries: Denmark

New user-centered tool for conducting a social study
By using a mobile application for data collection in this qualitative study, VIVE provides their participants with a tool that is flexible and convenient. The app also involves diverse nudging techniques, e.g. push notifications to remind the users of the importance of their contribution. The participants decide themselves when they have time to fill in the questionnaire and upload stories to the diary. Previously VIVE have tried to include images and videos in their studies by sending text messages to their participants, but with the new app, participants can incorporate the study into their everyday lives during the three-month study period.
Results and future perspective
The project started in September 2017 and we expect to have a first report of this study after half a year, in February 2018.  After the study VIVE will interview the participants to learn more about their experience while participating in a study and feedback about using the app. After evaluating the experience and results of the study and the process, VIVE will most likely include the application in future studies.
We are proud to be chosen to help VIVE and delighted about the opportunity to create a solution that contributes to social welfare research.
 About VIVE
VIVE is an independent National Research Center under the Ministry of Economic Affairs and the Interior Ministry. VIVE is the largest Danish Research community in the welfare area and cooperates closely with the strongest academic organizations in Denmark and internationally. VIVE initiates research projects by its own initiative and handles projects for ministries, municipalities and organizations.
vive.dk