Vital
We have helped DONG Energy enable corporate efficiency with a solution that offers employees easy access to relevant company information – anytime and anywhere. The DONG Energy Vital app pushes news to the users smartphones and iPads, along with giving employees access to more information such as location and security.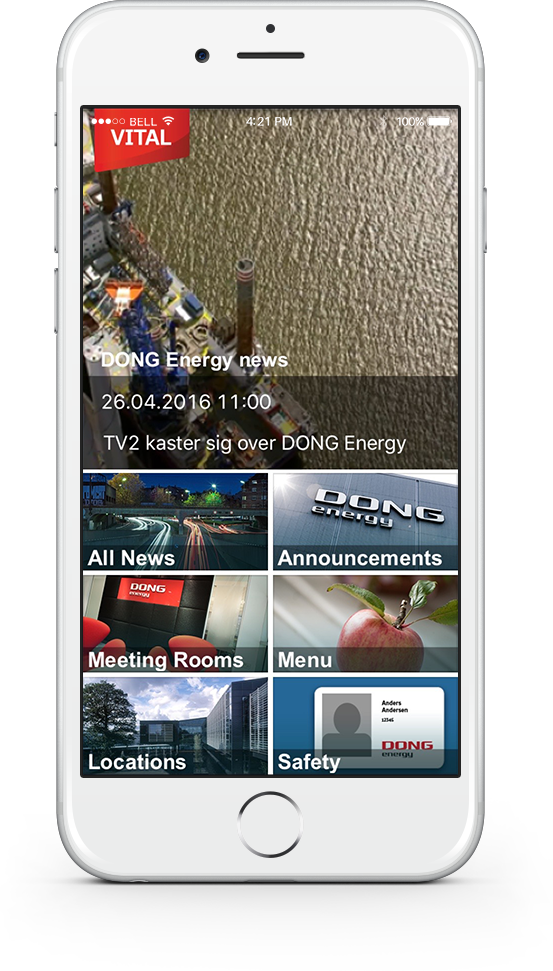 Vital was developed in close collaboration with DONG Energy to introduce improved communication across departments throughout the whole organization. DONG energy is one of Northern Europe's leading energy companies with over 6,500 passionate employees across in 10 countries.
Customer: Dong Energy
Platform: iOS
Released: 2015
Countries: Global
Effective business administration
The Vital app allows DONG to communicate their latest company news and announcements, and it gives DONG employees the possiblity to access company news and announcements when it is convenient for them. DONG employees around the world also have access to practical information, such as; meeting rooms, offices in the other DONG locations and a safety handbook. These productivity tools provide more effective business administration.
Benefits of enterprise mobility
Organizations benefit from mobile communication by breaking down borders between departments, creating a higher employee satisfaction level, reducing cost and improving corporate efficiency. Enterprise apps have stated their importance, also in regards to digital transformation in the organization.
The demand for these type of apps is increasing, and Vital is just one of many enterprise apps that we have developed for large companies. Are you interested in how a enterprise app can benefit your company? Take a look at our customizable enterprise app solution 'EmpAct' . There are unlimited possibilities for your company.