ReAct
App designed as Cognitive support for rehabilitation of Dementia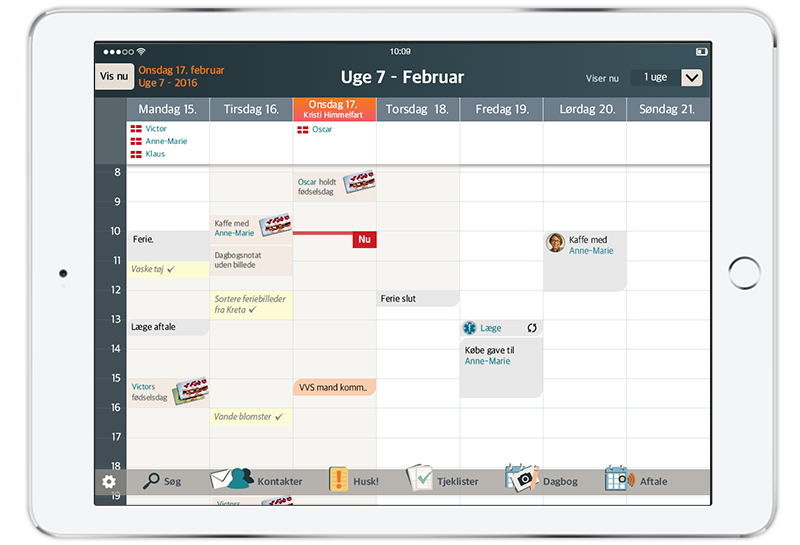 In close collaboration with Danish Dementia Research Centre, we have designed and developed an app that supports a new method of rehabilitation for people with dementia. The innovation project is called ReACT.
Client: Danish Dementia Research Centre
Platform: iOS
Released: 2017
Countries: Denmark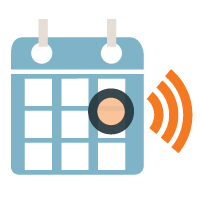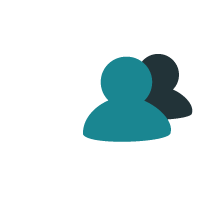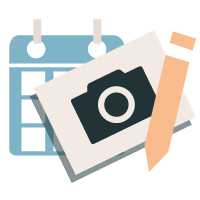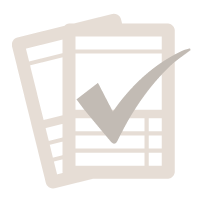 Designing for people with special needs
Neuropsychologist and ph.d. student Laila Øksnebjerg, Danish Dementia Research Centre, who is behind the research project, had done initial studies that indicated that technology, such as mobile apps, could help people with dementia. However, the studies also showed that users needed several different apps to fulfill their needs and that the apps used often were, or at some point became, too complex to use. Due to our extensive experience with designing and developing healthcare and patient engagement apps, we are happy that were chosen to develop the solution that supports individuals with dementia and all their app needs.

Understanding the users and their needs
At BridgeIT we use a user centered approach and to be able to empathize with the users, we needed insights on what their challenges and needs were. First and foremost we learned about dementia symptoms from the research facility. Group interviews with individuals who have dementia and their relatives gave us first-hand insight into their daily life challenges. We discussed in detail what tools and features could help them in their everyday life. We also went through features from the initial application research. This way, we got an understanding of what could help, what design worked and what was difficult to use, as well as the medical reasons for this, such as; the specific mental challenges, limitations and possibilities for this user group.
It was vital for us to work closely with the end users to fully understand their needs. We did sketches of the ideas we discussed and drew up user scenarios to get better insights into the context, when and how which features could be of help. Throughout the process, we asked the end users to validate the design which ensured that we were going in the right direction.  We also conducted separate workshops together with the healthcare professionals. This helped us identify and verify the behavior and needs on a larger scale.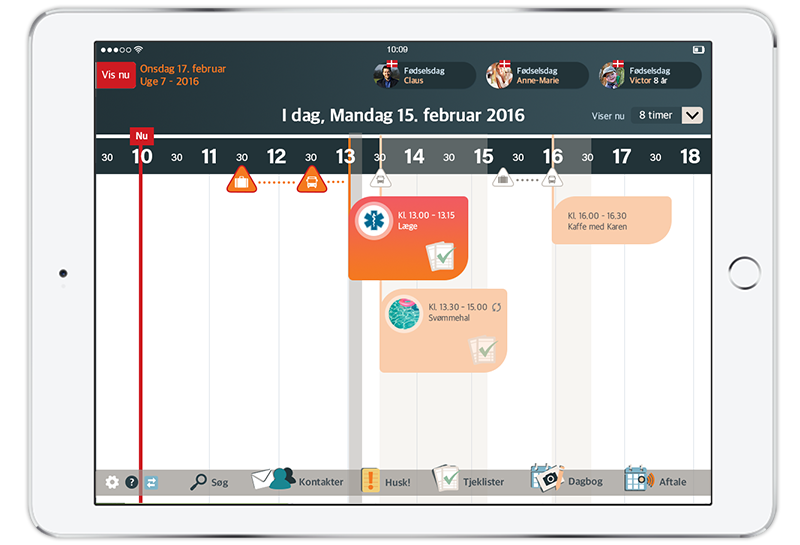 How the solution accommodates the users' needs
Due to the short-time memory issues, you cannot rely on a learning curve for the users. Everything must be visible in the screen otherwise the users will not remember where everything is in the app. For instance, a fold-out menu would not work because items and features would be hidden. Another thing we had to keep in mind was how fast the animations and transitions would occur since they had to be slower than we normally would have designed them. We were briefed very specifically that icons needed to resemble real life items that were immediately recognizable (Skeuomorphism). The project owners decided that the app should be available only on iPad to give users a "diary" impression.
The solution consists of a specially designed calendar. The main objective was to design a calendar that aided the user visually, so the user can change between different timespan view, such as 8 hours and 1 week. The solution also has stored contacts, "sticky notes", diary and checklists which can attached to specific appointments.
Accommodating the requirements was challenging for both the designer and the developers. Nevertheless, constantly empathizing with our end-users helped keep the focus and make the right decisions along the way.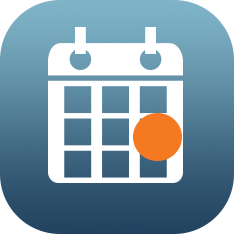 ReACT: 
Rehabilitation in Alzheimer's disease using Cognitive support Technology.
Fact about demenita
Dementia is an overall term that describes a wide range of symptoms associated with a decline in memory or other thinking skills severe enough to reduce a person's ability to perform everyday activities. Alzheimers is by far the most frequent dementia disease. Two out of three people with dementia has Alzheimers. 
Currently, the Danish Dementia Research Centre at Rigshospitalet estimates that 93,000 Danes have dementia, of which 50,000 suffer from Alzheimer's. This number is projected to grow to 164,000 by 2040.