QVARTZ Connected
In collaboration with QVARTZ we have launched an app called QVARTZ Connected. QVARTZ Connected is a tool designed for people in motion – the app features: two-way communication, functions to search and update personal skills, and a platform so every employee around the world has the latest information and news within the company.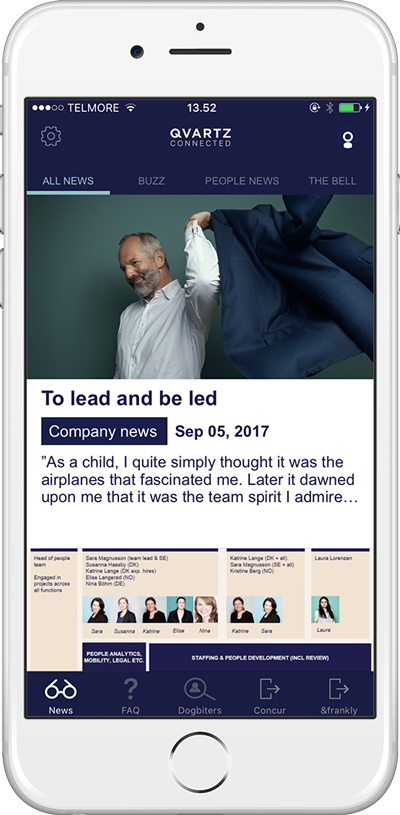 Solving a problem
QVARTZ's staff consists mainly of consultants with a wide variety of expertise. This tool allows a user to search and locate a colleague who has experience in a particular industry, sector, language or from a previous employment. This helps the consultants to quickly locate someone who can help them if any questions should arise.
People are the most important assets for management consultancy companies. That is why QVARTZ Connected facilitates effective and searchable updates on CV's, project expertise and knowledge sharing for staffing purposes, all coupled with an "easy to use" communication tool.
Client: QVARTZ
Platform: iOS (Smartphones)
Released: 2017
Countries: Denmark/Germany/ Norway/Sweden/US

Communication
QVARTZ wanted to eliminate the large number of emails from various departments that reported their latest news but clog up inboxes while still keeping employees updated with the plans, progress and developments around the company. The QVARTZ Connected solution ensures that this information reaches everyone by collecting articles in one place where it does not compete with other important emails. Providing an easy access to business activity within the company helps the employees stay abreast of the current events, thus increasing engagement and involvement.  
The new tool also allows a user to like, share and comment on a particular article. This helps to further connect employees and to track relevant content based on popular articles. It will also be accessible through a web interface on their desktop computers.
Expenses assistant
Users can also complete expense reports while on the go. This makes it easy to complete in a timely fashion while away from standard work areas. 
About QVARTZ
QVARTZ is a management consulting company with offices in Copenhagen, Hamburg, New York, Oslo, Singapore and Stockholm. Their heritage is Nordic, but their reach is global.
Read more on their homepage here.