MyPso
MyPso is an app that allows patients with psoriasis to regularly track their well-being, as well as identify main triggers, compare with others and to network.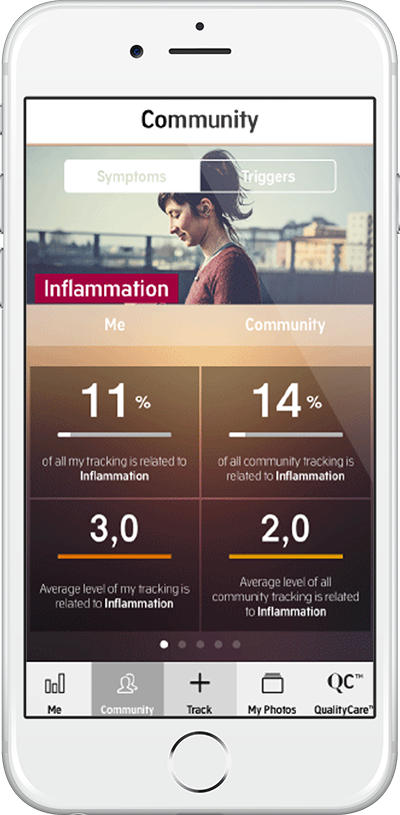 Achieving better behavioural understanding
In order to meet real user needs, Leo arranged for a series of user workshops. They concluded that personal data mining was very important in order for the psoriasis patients to enhance dialogue with their health care practitioner and to help patients achieve better behavioural understanding. During these workshops, it became apparent that patients would like to track three main parameters: Symptoms, triggers and flairs.
Client: Leo Pharma
Platform: iOS, Android
Released: 2015
Countries: Austria, Belgium, Canada, Denmark, France, Germany, Greece, Holland, Italy, Russia, Switzerland, UK, USA and the Philippines
Tracking
We developed a solution that has an easy to track flow, where tracking is personalized and intuitive. The personal data mining aspect is central in the app, inspired from commonly used lifestyle apps. When tracking regularly the patient is able to follow their well-being, identify main triggers, symptoms and flairs. This enables the patient to get a better view of actions and consequences in daily life.

MyPso is developed on the BridgeIT Mobility Platform (BMP), which facilitates current platform updates and maintenance in all countries. Read more about the BMP.
MyPso app is helping to revolutionize the healthcare sector
We are delighted that Danish newspaper Berlingske has shared the story about our MyPso app and its positive influence on people's lives and the healthcare system: https://bit.ly/2wXXLSs (In Danish)