mPsyk – Daytracker
Daytracker is an application that helps psychiatric patients suffering from schizophrenia to better cope with everyday life and get through crisis situations.
We worked together with therapists and patients from Region Sjælland to create the best possible solution for those involved. In the project's early phase, Region Sjælland made qualitative interviews with patients and health care providers to uncover what users see as the most important needs.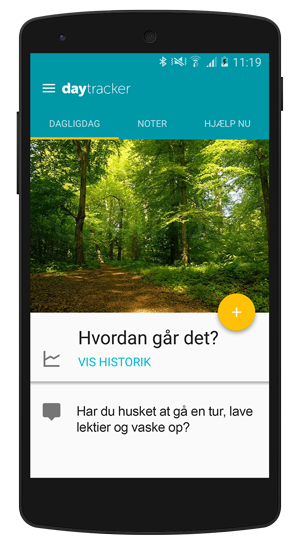 Self-monitoring
The app's primary focus is self-monitoring, this gives users insight into how things are connected (for example: better sleep results in better mood etc.) and it provides health care providers with a tool that allows them to see how things have been going with the patient since their last session. Furthermore, the app contains a diary where users can store notes, text and images.
Client: Region Sjælland
Launch: 2015
Platform: Android

Enabling a connection to the therapist
The app is connected to a web solution that allows the healthcare provider to track the well-being of the patient when they are not together. The solution also gives the therapist the option to praise patient's good behaviour and guide them through critical situations.
Promising test results
The test was run in April and the results were promising: "The immediate reactions of the test of the the app looks very positive from both therapists and patients. The reason is that it is incredibly easy to use, while making perfect sense for the people concerned, "says Marlene Schneekloth, Health Innovation Zealand, in Nyhedsbrev OPI-platform, April 2015.
Read more about the project Mpsyk.