Min Arbejdsplads
In collaboration with Sundheds- og Omsorgsforvaltningen (SUF), in Copenhagen Municipality (KK), we have launched an app called Min Arbejdsplads.
Min Arbejdsplads is a news app where employees can get a quick and easy overview of the latest news from SUF and KK. Furthermore, they are informed about operational issues, e.g. if a system is out of order that affects their everyday work. They also have access to relevant job openings that can be shared with acquaintances.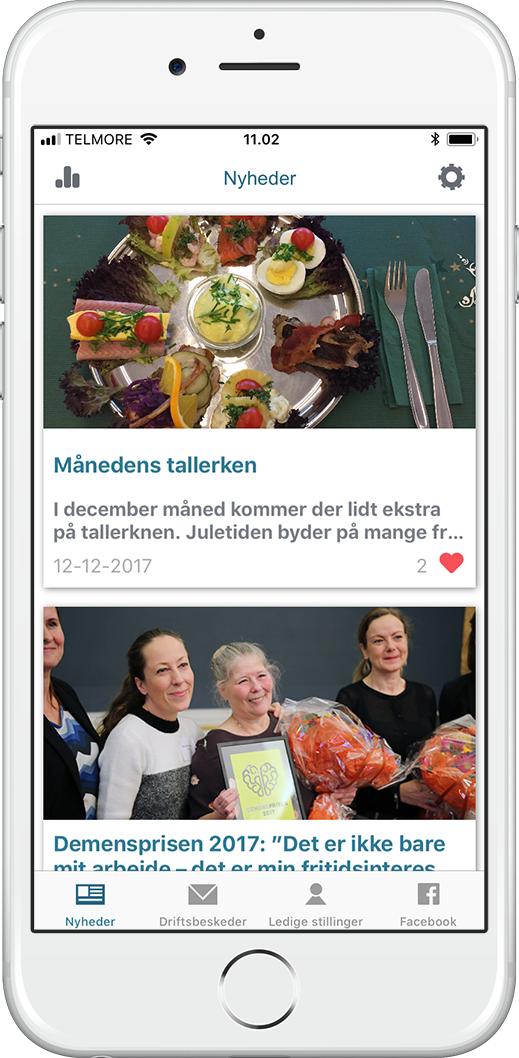 Solving a problem
SUF had a desire to offer their employees a mobile solution, that could help them optimize processes and increase the employee engagement. SUF's staff consists mainly of healthcare professionals, social assistants and specialists within areas of nursing homes, home care and health services.
The communication department had a problem reaching all employees with relevant communication because their workday is centered around the citizens and not in front of a computer. By building a tool that allows the news to be available on Tablets and Smartphones – platforms that employees have access to every day – we have provided a tool where they can read the latest news anytime anywhere, thus allowing them to stay updated on all the various actions that the commune takes within their field of specialty.
Client: Sundheds- og Omsorgsforvaltningen Københavns Kommune
Platform: iOS and Android (Tablets and Smartphones)
Released: 2017
Countries: Denmark
Two-way communication
The new tool also includes a questionnaire function where the employees can continuously answer different questions about their work life-balance and other things related to the commune's actions. This is providing SUF with a helpful tool to help gauge the temperature of their organization, while also providing an option to request opinions about different subjects.
About Sundheds- og Omsorgsforvaltningen, Københavns Kommune
This business unit of Copenhagen Commune is responsible for health services for all the citizens of Copenhagen, as well as for the nursing and homecare offers to citizens over 65 years of age. SUF employs around 10.000 people on a daily basis.
Read more about the business unit here.