LevMedType2
Each year close to 30.000 people in Denmark are diagnosed with type 2 diabetes. It is estimated that in 2025 the total amount of Danes with type 2 diabetes will be approx. 600.000 people*.  Two effects of being diagnosed with type 2 diabetes, is a change in life style and more frequent contact with the healthcare system.
Together with Steno Diabetes center we created a concept: the "LevMedType2" app. The purpose of the app is to improve the quality of life for the diabetes type 2 citizens and their relationship with healthcare system. The concept won a competition, organized and funded by the region of Copenhagen and Copenhagen Municipality, for 'best diabetes development idea'.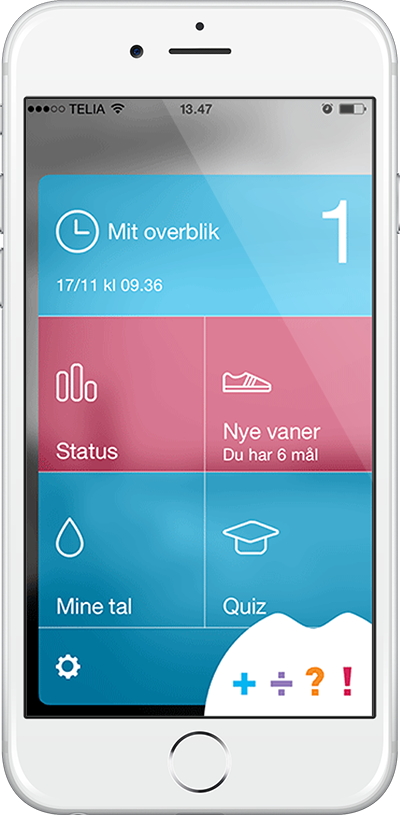 Improving citizen-healthcare relationship
The app allows individuals with type 2 diabetes to prepare for their visits to the different healthcare practitioners. The content flow is set up so that the individual can access different informative sections depending on the consultation type. The main focus is to give the person diagnosed with type 2 diabetes the right tools, which allows them to ask the right questions during their appointment.
The app also gives the diabetic access to the tools used in Stenos 'ToolBox'.  Among the tools are the possibility of defining a specific "challenge" area and goal to work within a given period. When visiting the doctor, the dialogue can be focused around the lifestyle data compared with their general daily well-being (stress, sleep etc.). The main purpose of this function is to support the individual by allowing them to actively work with their personal goals within a limited area that is specifically challenging for the individual.
Client: Region Hovedstaden and Københavns Kommune
Partner: Steno diabetes center
Platform: iOS, Android
Released: 2015 (pilot)
Publications: 
User driven development
The concept is based on Steno Diabetes Center's ToolBox and workshops involving the healthcare staff and individuals with type 2 diabetes. The ToolBox is an analogue tool that public health centres use to facilitate the dialogue around diabetes and its challenges. During the workshops, it became apparent that there was a need for an everyday tool that allows people with type 2 diabetes to plan and keep track of the treatment procedure. The individuals participating in the workshops also found that visualizing their general well-being compared to their lifestyle was helpful.
Pilot phase
The pilot phase will end on December 31, 2015. For further information about the project, please visit the 'Et Nyt Liv med Diabetes' homepage.
* Source: diabetes.dk