---
MAN Connected
We have, together with MAN Diesel & Turbo, developed a mobile solution called MAN Connected. MAN Connected is an employee engagement app which gives MAN Diesel & Turbo employees worldwide the possibility of staying updated with relevant company information anytime and anywhere.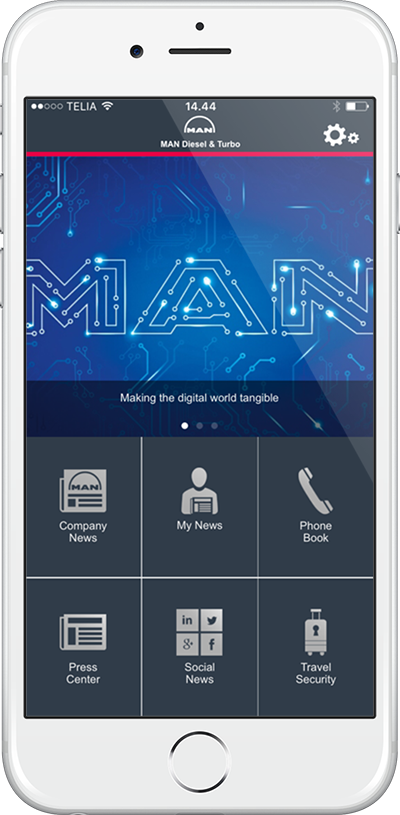 Journey to a digital workplace
MAN Diesel & Turbo is moving towards the digital world at the workplace, and have started their mobility journey by empowering their employees. Employees are taking part in the necessary change of digital transformation by engaging and embracing this digital journey.
Client: MAN Diesel & Turbo SE
Platform: iOS/Windows10
Released: 2016
Countries: Worldwide
Engaging employees in digital transformation
The mobile app solution, MAN Connected, engages employees by offering them a platform which contains feeds from all MAN Diesel & Turbo' s social media channels, as well as official company news and press releases that users can share with their network.
The app allows MAN Diesel & Turbo employees to access the relevant information in regards to travel security. This feature helps those who travel to remote locations feel secure by offering immediate assistance if needed. The app also provides convenience by offering a phonebook feature which contains every employee working at MAN Diesel & Turbo worldwide.
The app content is provided in 4 languages and is available worldwide!
Benefits of enterprise mobility
The demand for corporate apps are increasing and MAN Connected is one of many corporate apps that we have developed for large companies. Are you interested in how a corporate app could help your company? Look at our EmpAct solution for more information.