---
Maersk StartUp
In collaboration with Maersk we have developed an app called StartUp. The solution is a digital start-up finder used by Maersk employees worldwide to find, collect and share information about new and innovative companies that Maersk could collaborate with.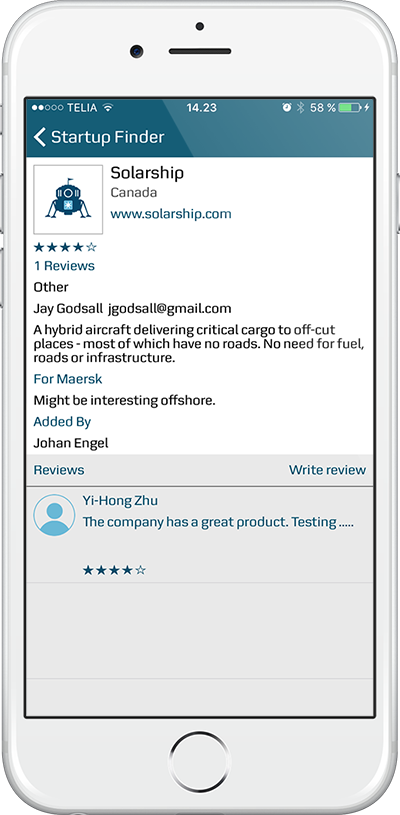 In today's fast-paced world, companies that want to lead have to innovate. Maersk invests heavily in innovation at all levels of their organisation. For them, innovation is a highly focused discipline that aims to deliver better service, protect their employees and the environment, create new business opportunities and ensure cost-effectiveness. (Source: Maersk innovation)
Client: Maersk
Platform: iOS
Released: 2016
Countries: Worldwide
Employees can contribute to supporting innovation!
With the help of the StartUp solution, Maersk employees can add new start-up companies to the portfolio/database that they find interesting for potential collaboration. Users upload a picture, description and location when they come across an interesting start-up company. The app requires a log in which ensures information credibility. Co-workers can then give feedback and rating which supports collaboration amongst Maersk employees worldwide. StartUp is so far in the MVP (Minimum Viable Product) phase. The idea to introduce the first version of the app to the users as soon as possible and based on the user feedback, features will be added.